Saturday 23 June, 2012 - Book signing at Waterstones, Poole



---
17th June 2012 - Book signing at the Littledown Marathon, Bournemouth
---
My book launch held at Foyles book shop, London, Thursday, 10th May.

---
6th May 2012 - Book signing at the North Dorset Village Marathon, Sturminster Newton - from 11.00 am
---
10th May 2012 - Book signing event at Foyles Book Shop, Charing Cross Road, London - 6.30-8.00 pm (30 minute talk by me, 5 minute talks by three 100 Marathon Club members featured in my book, Q&A session followed by book signing) - see Foyles Website 'Events' for further information and booking
---
Friday, 13th & Saturday 14th April 2012 - I will be at the Brighton Marathon Expo on the 'Running Crazy' stand with my book, signing copies and chatting!
---
Friday, 6th April 2012 - I will be facing my first live radio interview on BBC Radio Solent at 1320 with Alina Jenkins. You can hear the interview until 13th April via the internet at BBC Radio Solent, Nicki Martin Show (Alina Jenkins sitting in on 6 April)
---
Monday, 2nd April 2012 - The Daily Express published an extract from 'Running Crazy'.
---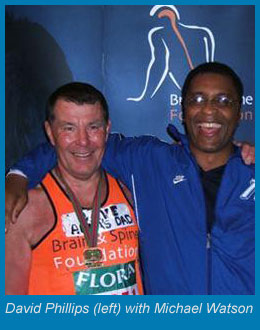 On the 12th January 2012, I was invited by David Phillips, one of the runners featured in my book, 'Running Crazy' to attend the Daily/Sunday Telegraph Brain & Spine Foundation London Marathon Launch held at Arsenal Football Club.
The Telegraph sponsors a team every year to run in the London Marathon and raise funds for the Brain & Spine Foundation and David has run for the Team for the past 11 years. Through that and other marathons run all over the world, David has raised over £50,000 for charity, predominantly the Brain & Spine Foundation.
Also present at the event was boxer, Michael Watson, who suffered severe head injuries in his final fight and was treated by the UK's leading neurosurgeon and founder of the B&SF, Peter Hamlyn. Not expected to walk again or regain full speech, Michael has defied all the odds and has acted as honorary captain to the Telegraph Team on several occasions, once walking the entire marathon course over six days himself. Of his accident, Michael said that it had enriched his life because it has allowed him to help others in a way he never could have done before.
Now it is I who am speechless.
For further information about the Brain & Spine Foundation, please visit their website at www.brainandspine.org.uk.
---